So schnell vergeht die Zeit und der August ist bald schon wieder zu Ende. Nun haben wir ja schon Hochsommer und je heißer die Temperaturen werden umso mehr sehnen wir uns nach frischen, leichten und lebendigen Düften – die uns so richtig in Urlaubsstimmung bringen. Ein Sommerduft sollte erfrischend, fruchtig-floral, leicht und lebendig sein und viel Citrus und Sorbet-Nuancen oder aber auch Kräuter wie Basilikum und Minze aufweisen und bitte kein Eau de Parfum sein, denn das wäre im Sommer viel zu schwer. Im Sommer bevorzugen wir Eau de Toilette oder Eau de Cologne. | Time flies and now we have August again. Now we have almost midsummer and the hotter the temperatures go the more we want fresh light fragrances which bring us in holiday mood. A summer fragrance should be refreshing, fruity-floral with very much of citrus and sorbet or herbals like basil or mint and should be an eau de toilette or eau de cologne.
Im heutigen Beitrag möchte ich euch meine Sommerhighlights unter den Düften vorstellen. | In today's blogpost I show you my favorite summer fragrances.
Ein richtiger Klassiker unter den Düften ist der Duft Daisy Eau so Fresh von Marc Jacobs. Jedes Jahr bringt Marc Jacobs eine andere Variante seines sehr blumigen und frischen Duftes heraus. Heuer war es DAISY Blush. Der Duft heuer ist warm und strahlend und besteht aus einer blumig-fruchtigen Mischung aus fröhlichen Akkorden von Pink Grapefruit. Die Basisnote besticht durch den Duft von Aprikosennektar und die Herznote vereint Freesie und Rose. | A real classic one is the fragrance Daisy Eau So Fresh from Marc Jacobs. Every year Marc Jacobs releases an other version of this very fresh and flowery fragrance. This years new fragrance was DAISY Blush. The fragrance consists of a flowery and fruity mixture of cheerful chords of pink grapefruit. The basis consists the fragrance of apricots. The heart note combines roses and freesia.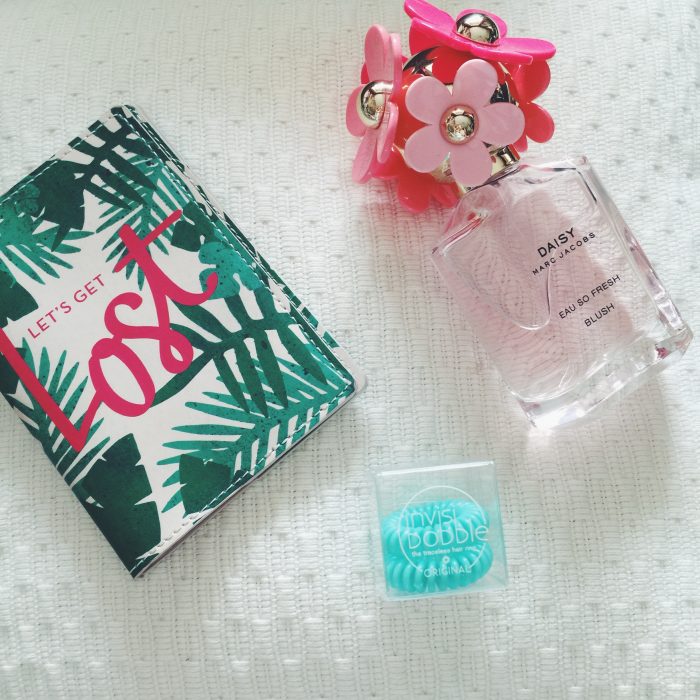 Von Marc Jacobs ist aber meist im Sommer auch der Duft DAISY Eau so Fresh erhältlich. Auch dieser ist sehr blumig und frisch und beinhaltet zu Beginn eine Komposition von Grapefruit, Himbeere und Birne. Die Basisnote bilden Moschus, Zedernholz und Pflaume. Die Herznote besteht aus Veilchen, Apfelblüten und Wildrosen. | In summer is the parfum DAISY Eau so Fresh from Marc Jacobs available. This parfum is very fresh and flowery and includes a composition of grapefruit, raspberries and pear. The basis consists musk, cedar and plum. The heart note combines violets, apple blossoms and wild roses.
Sehr ansprechend finde ich das Design des Flakons, das jedes Jahr aufs Neue mit anderen Farben gestaltet wird. | Very attractive is the design of the flask, that will be designed every year new.
Ein weiterer absoluter Sommerparfum-Favorit ist das Parfum Chloé Love Story. Dieses Parfum gibt es erst seit heuer. Es besteht aus Kapuzinerkresse und Kirschblüten. Die Herznote enthält Orangenblüten. Das Design des Flakons aus plissiertem Glas stellt ein Symbol für Verbundenheit dar. | One of my personal favorite summer parfums is the parfum from Chloé called Love Story. The parfum was released this year. It consists of nasturtium and cherry blossoms. The heart note consists orange blossoms. The design of the flask is a symbol of unity and is made of pleated glass.
Natürlich gibt es noch unzählige andere Sommerdüfte, doch diese zwei sind eindeutig meine Lieblingssommerdüfte im heurigen Jahr. | There are countless other sommer fragrances, but these two are clearly my favorite summer fragrances of this year.