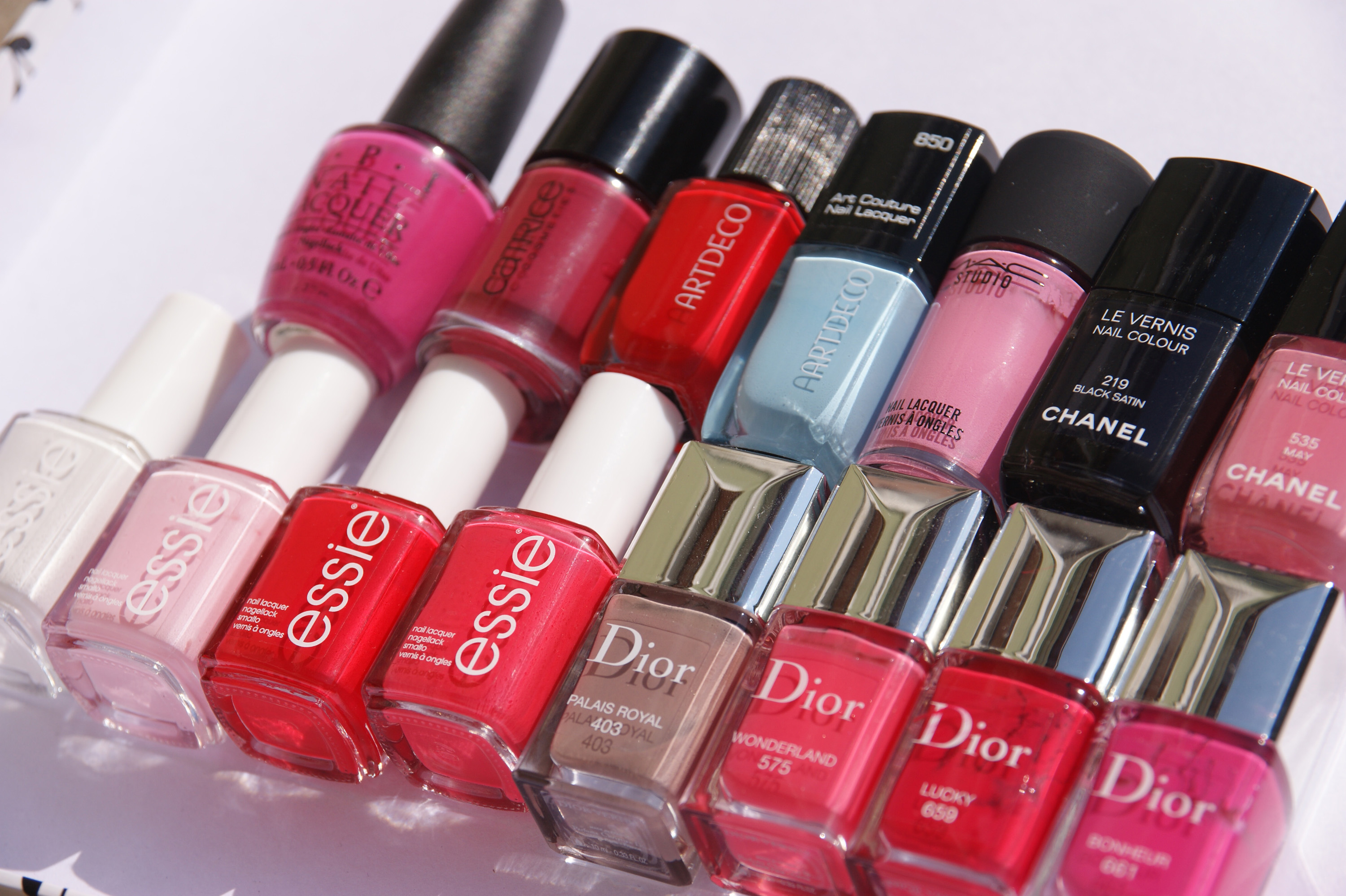 Es geht wahrscheinlich in Punkto Nagellack vielen wie mir. Man kann eigentlich nicht genug verschiedene Nagellackfarben haben. Heute möchte ich euch meine Lieblings-Nagellackfarben vorstellen und euch zeigen welche Produkte ich verwende. Viel Spaß beim Lesen, ich freue mich auf eure Kommentare. |
Maybe you feel the same like me in terms of nail polish. You can't have enough of it. Today I like to show you my favorite nail polish colors and the products I use.
SCHRITT 1 – Nagellack entfernen |

STEP 1 – Remove nail polish



Zu Beginn geht's mal darum den bestehenden Nagellack, sofern einer getragen wird zu entfernen.
Hierzu verwende ich von LOOK BY BIPA den Get Clean Nagellackentferner acetonfrei (zu erkennen an der rosa Farbe). Ich verwende acetonfreien Nagellackentferner, weil dieser weniger riecht und die Nägel nicht so sehr angreift wie acetonhaltiger Nagellackentferner. Zum Auftragen des Nagellackentferners verwende ich Wattepads von BELLAWA. Wenn euch der Geruch des Nagellackentferners auch so stört wie mich und danach jedes Zimmer danach riecht, dann empfehle ich euch die Get Clean Nagellackentferner Pads von LOOK BY BIPA. Die riechen überhaupt nicht und man kann sie auch einfach unterwegs mitnehmen. | At first you have to remove your nail polish if you wear a nailpolish. I use the get clean nailpolish remover from LOOK BY BIPA. It's acetone free (pink color of the bottle). I only use acetone free nail polish remover because it smells less and its less aggressive than nail polish remover with acetone. I use cotton wool pads from BELLAWA to apply the acetone free nail polish remover. If you also hate the smell of your nail polish remover I recommend the get clean nail polish remover pads from LOOK BY BIPA. They do not smell and you can also take them on your way.
Schritt 2 – Nägel feilen

| STEP 2 – file your nails



Um meine Nägel zu feilen verwende ich seit einigen Jahren nur mehr eine Glasfeile z.B. die Soft Touch Glasfeile von LOOK BY BIPA. Sie kann genauso wie die Saphierfeile angewendet werden, ist aber im Unterschied zur Saphierfeile antiallergen, sehr langlebig und sieht auch noch stylisch aus. | For a while I use a file made of glass e.g. the soft touch glass file from LOOK BY BIPA. You can use it like the sapphire file but the glass file is stylish, you can have it a lifetime and its anti-allergic.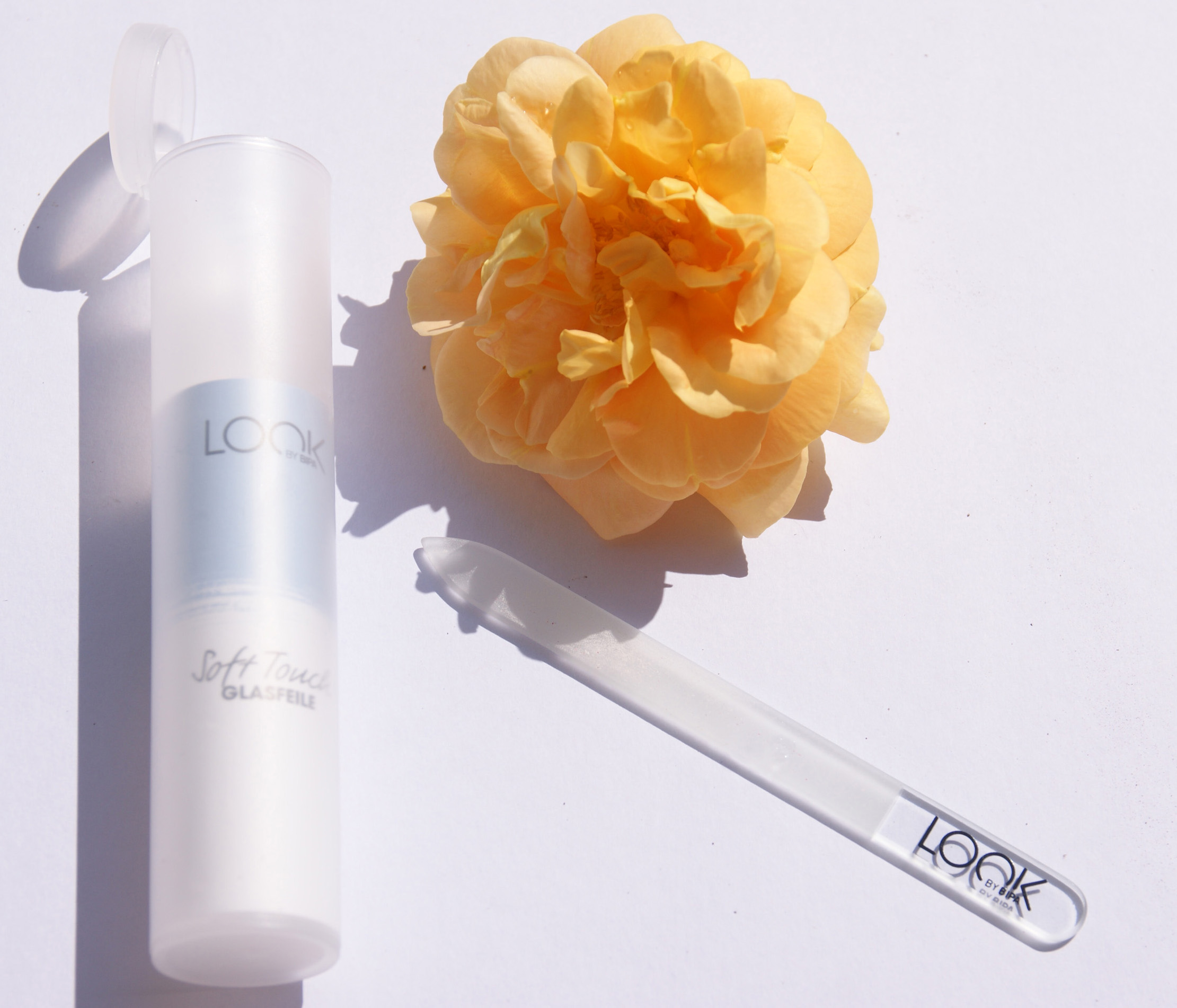 Schritt 3 – Nageloberfläche bearbeiten

| STEP 3 – edit nail surface



Hierzu verwende ich die Total Trio Studiofeile von LOOK BY BIPA.
Diese Feile beinhaltet drei Funktionen:
Reinigung: Die Nageloberfläche wird gereinigt und von Schmutz beseitigt.
Aufbau: Das Nagelwachstum wird gefördert und die Durchblutung angeregt.
Glanz: Die Nageloberfläche wird verschlossen und erhält Glanz.
Anschließend trage ich noch den Cocos Care Nagelpflegestift von LOOK BY BIPA auf die Nägel und die Nagelhaut auf. Er schützt vor Absplittern und kräftigt die Nägel und er riecht sooo gut.
To edit the nail surfice I use the total trio studio file from LOOK BY BIPA. 
This file includes three functions:
Cleaning: The nail surface will be cleaned and dirt will removed.

Building: The nail growth will be promoted and it stimulates blood circulation.

Shine: The nail surface will be sealed.
Subsequently I use the cocos care nail care pencil from LOOK BY BIPA. It protects for spalling and makes the nails stronger.
Schritt 4 – Unterlack auftragen

| STEP 4 – apply base coat



Als nächstes kommt der Unterlack. Der Unterlack ist wichtig, um Verfärbungen der Nägel durch den Nagellack zu vermeiden. Im Handel werden sehr viele verschiedene Unterlacke mit unterschiedlichen Funktionen angeboten. essie bietet hier ein sehr breites Sortiment an Unterlacken an wie z.B. grow stronger. Da meine Nägel zum Absplittern neigen verwende ich diesen. Er trocknet sehr schnell und schützt meine Nägel vor dem Brechen. | Then I use a base coat. The base coat is important to avoid discolouration of the nails by the nail polish.
Schritt 5 – Nagellack auftragen

| STEP 5 – apply nail polish



Nachdem der Unterlack getrocknet ist kann der Nagellack aufgetragen werden. Abhängig von der Deckkraft trage ich ihn 1-2 Mal auf. Für French Manicure verwende ich die Schablonen von Fing'rs von BIPA. |
When the base coat is dry you can apply the nail polish. Depending on the opacity of the nail polish you have to apply it once or twice. For french manicure I use templates from Fing'rs.
Hier findet ihr meine Top 15 Lieblingsfarben: | Here are my top 15 favorite nail polish colors:
1. 659 LUCKY von Dior
2. i pink i can von essie
3. peach daiquiri von essie
4. 535 MAY von CHANEL
5. 219 BLACK SATIN von CHANEL
6. 575 WONDERLAND von Dior
7. 661 BONHEUR von Dior
8. 108 The Very Berry Best von CATRICE
9. 850 von ARTDECO
10. CREAM SAINT GERMAIN von MAC
11. 684 von ARTDECO
12. blanc von essie
13. too too hot von essie
14. Kiss me on my tulips von O.P.I
15. 403 PALAIS ROYAL von Dior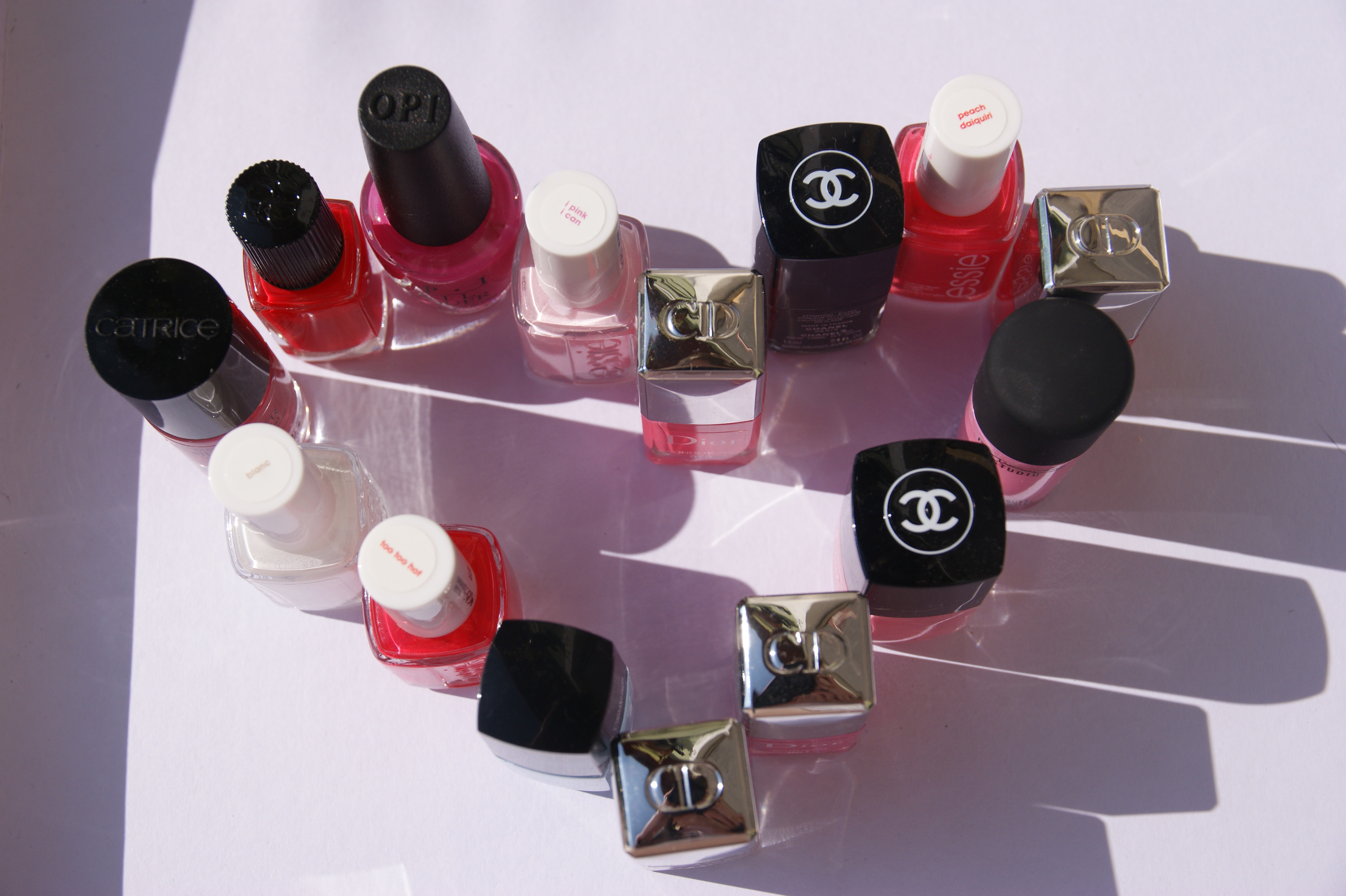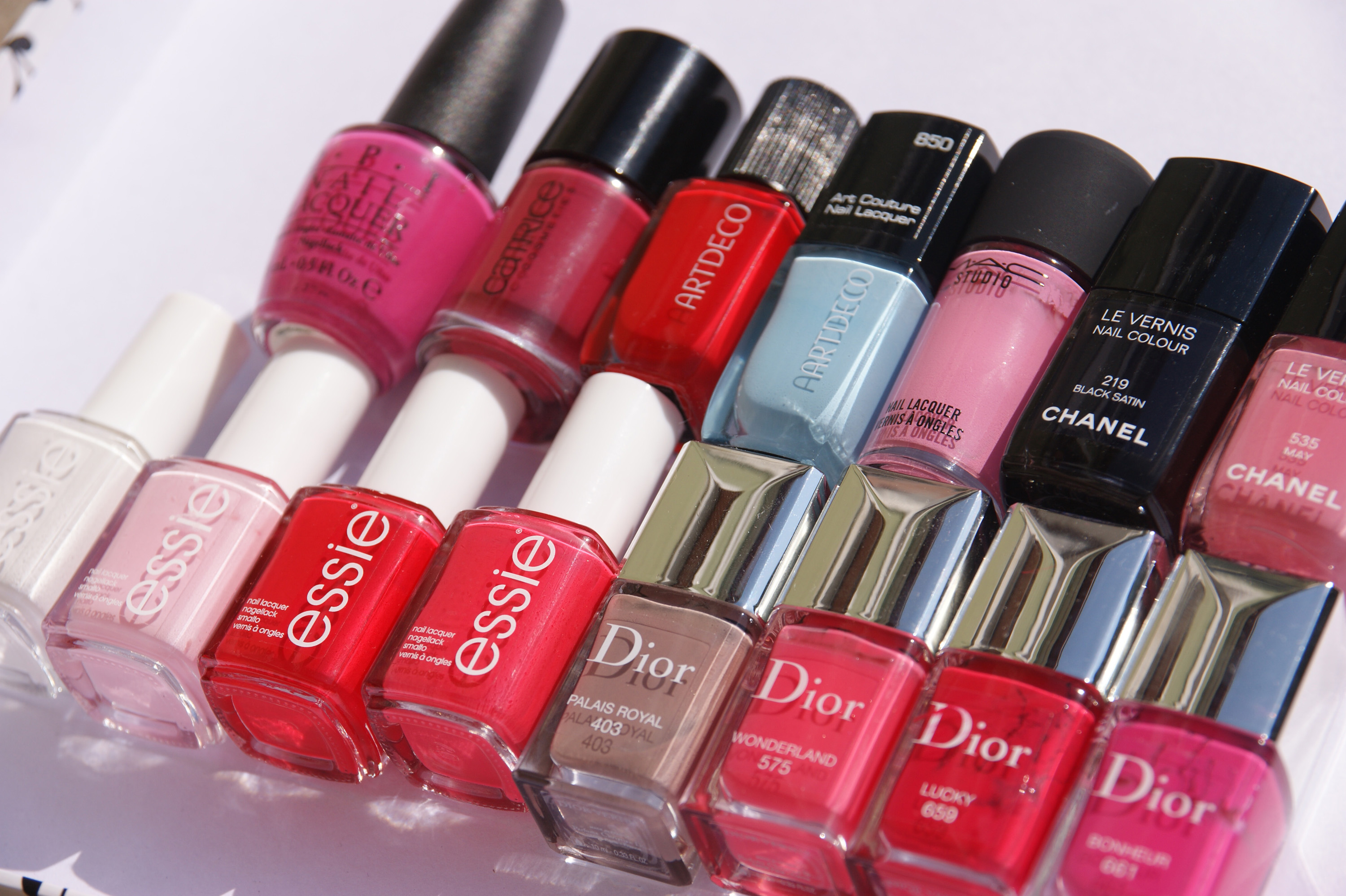 Schritt 6 – Überlack auftragen

| STEP 6 – apply top coat



Im nächsten Schritt trage ich den Überlack auf. Der Überlack ist keine Pflicht vor allem dann wenn man wenig Zeit hat. Er verleiht aber dem Nagellack mehr Glanz und der Nagellack hält dadurch auch einige Zeit länger. Bis vor kurzem habe ich von essie den good to go Überlack verwendet, da er schnell trocknet und die Nägel so schön glänzen.
Zwischendurch habe ich auch von dior den top coat apricot ausprobiert. Dieser hat mich vollends überzeugt, da er unkompliziert aufgetragen werden kann und der Nagellack sehr sehr schnell trocknet. Mittlerweile habe ich von essie den Überlack gel setter ausprobiert und bin auch mit diesem sehr zufrieden. Die Nägel erhalten Glanz und er hält auch sehr lange. Wenn ihr glänzende Nägel bevorzugt dann würde ich euch den good to go und den gel setter von essie empfehlen. Um etwaige Fehler beim Nägel lackieren zu entfernen verwende ich den Easy Correct Nagellackkorrekturstift von LOOK BY BIPA. | Then I apply the top coat. The top coat is not necessary if you do not have enough time. It gives the nails more shine and the nail polish lasts longer. Until recently I used the good to go top coat from essie. The drying goes fast and the nails get a very nice shine. I also used the top coat apricot from dior. The drying of the nail polish goes very very fast and the nails also get a beautiful shine. Meanwhile I tested the top coat gel setter from essie and I am very satisfied. The nails get shine and it lasts very long. To remove some of the nail polish you can use the easy correct pencil from LOOK BY BIPA.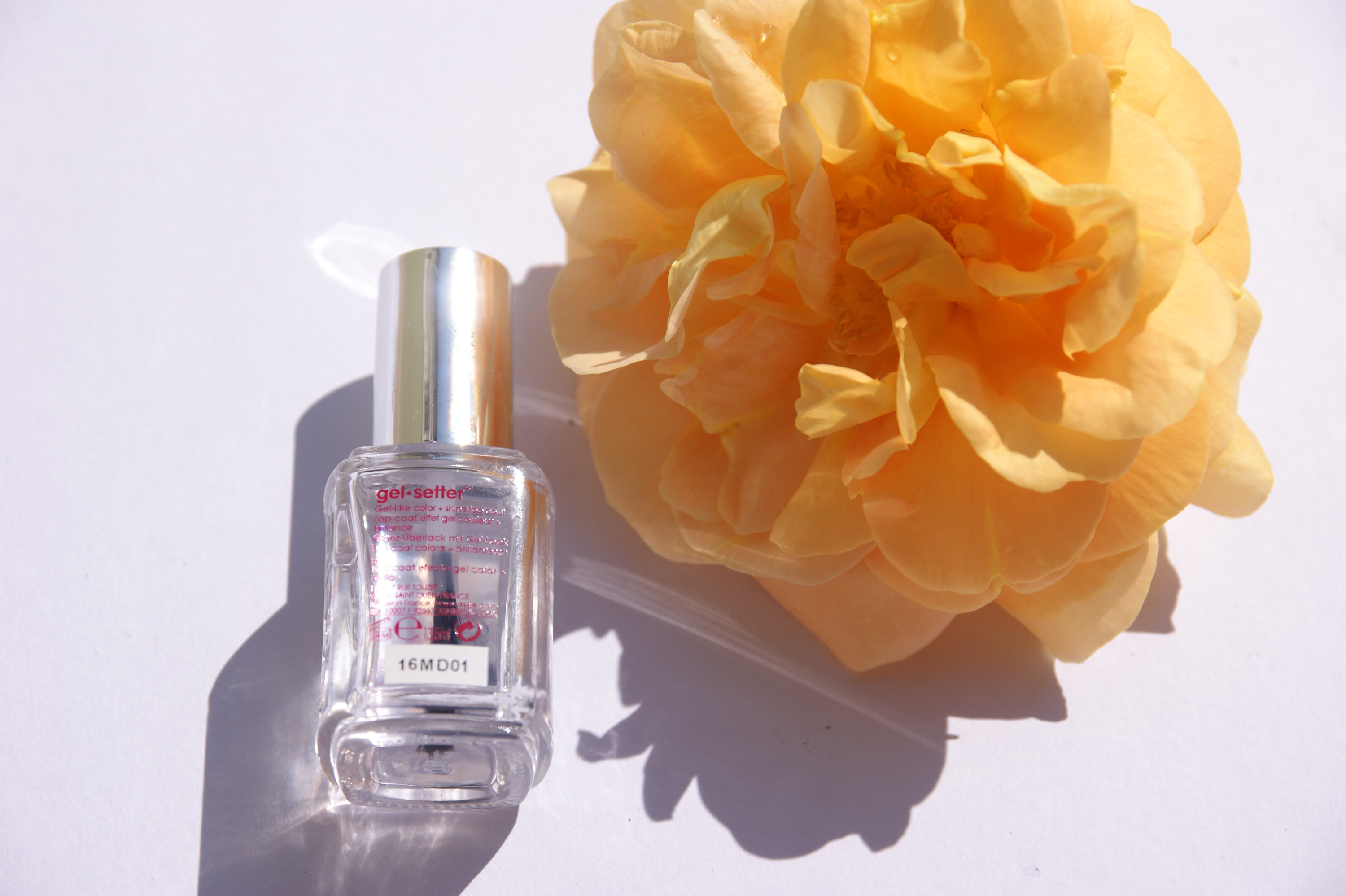 Schritt 7 – trocknen lassen (Zeit nehmen)

| STEP 7 – let dry (take time)



Meistens lasse ich den Nagellack einfach trocknen und verwende keine Produkte die den Vorgang beschleunigen. Wenn es aber schnell gehen soll, dann verwende ich von essie den quick-e. Nur ein paar Tropfen reichen aus damit der Nagellack in kurzer Zeit trocken ist. | Mostly I do not use products to accelerate the drying but if there is no time I use the quick-e from essie. You need only a few drops and the nail polish is in a short time dry.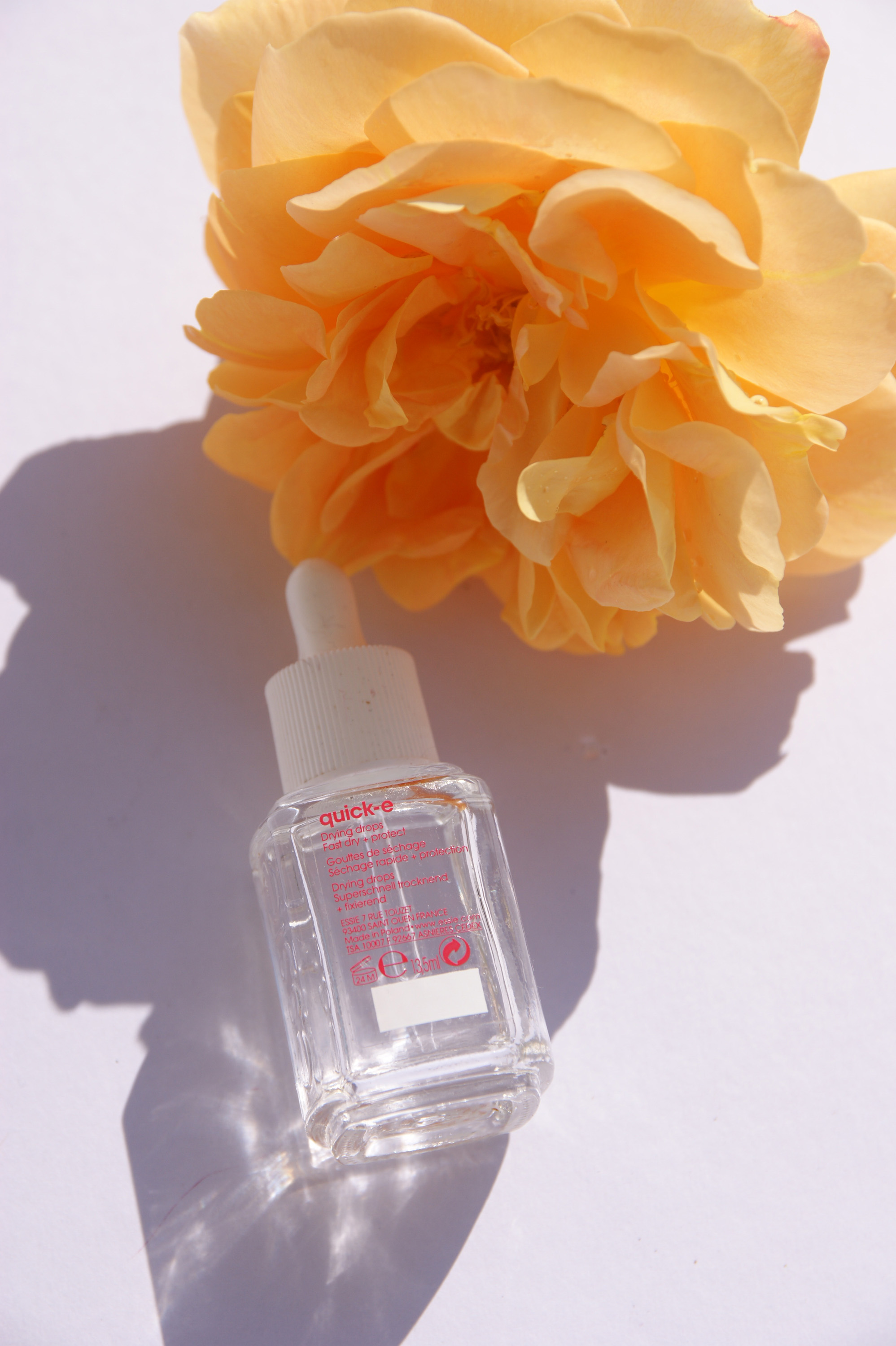 You might also like